Updated: 3 December 2021
A coach in a cricket team is someone who has the responsibility to carry the team forward. He is also called the mentor of the team. VIVO IPL 2021 has a total of 8 teams and each team has a total of around 20 players.
In IPL 2022 there will be 10 teams.
So, the role of a coach becomes a lot more important in a big team. Here we have discussed the IPL 2022 all-team coaches and their hefty salaries.
Also Read: India Vs New Zealand: Head To Head, Records In T20, And Test
CHENNAI SUPER KINGS
Head coach– Stephen Fleming IPL
Batting coach- Michael Hussey
Bowling coach-L Balaji
Fielding coach- Rajiv Kumar
Stephen Fleming was one of the most prolific cricketers from New Zealand. He joined CSK as a player in the year 2008. He played in 10 matches and scored 196 runs in the inaugural season. He was then appointed as the head coach of CSK in 2009 and he is serving his duty since then. Fleming is regarded as one of the most successful coaches of IPL.
Also Read: IPL 2022 Mega Auction, Retention Rules, Right To Match Card (RTM), Two New Teams & What You Need To Know
Stephen Fleming IPL Coach CSK,Salary – 3.5 Crore
MUMBAI INDIANS
Head coach– Mahela Jayawardene IPL Coach
Batting coach- Robin Singh
Bowling coach- Shane bond IPL
Fielding coach- James Pamment
Also Read: IPL 2022: MEGA AUCTION RULES
Mahela Jayawardene, the veteran player from Sri Lanka is the head coach of the five-time champion Mumbai Indians. He was appointed for this position before the start of 2017.
Mahela Jayawardene played for various teams in the IPL as a player before taking up coaching. He played 80 matches in the IPL between 2018 and 2018 and scored 1802 runs.
Mahela Jayawardene is the most successful coach ( in terms of title win) of IPL history.
Also Read: ICC MEN'S T20 WORLD CUP 2022: Schedule, Venue, Qualification, Ranking, Winners
Mahela Jayawardene IPL Coach Mumbai Indians, Salary – 2.30 Crore
ROYAL CHALLENGERS BANGALORE
Head coach- Sanjay Bangar. On Tuesday (November 8) RCB appoints Bangar as head coach of RCB for two seasons.
Batting coach- S Sriram
Bowling coach- Adam Griffith
Feilding coach- Sankar Basu
Also Read: IPL 2021: TOP 5 MOST SUCCESSFUL COACH OF IPL
Royal Challengers Bangalore (RCB) appointed former New Zealand player and head coach Mike Hesson as its Director of Cricket Operations after the 2019 IPL edition.
Later Australia's Simon Katich was announced as the head coach of the side. Katich played with Kings XI Punjab in the season 2008 and 2009. In the 11 games, he has scored 241 runs.
Both the coach and the team have performed brilliantly so far in terms of performance.
Mike Hesson IPL Coach,Royal Challengers Banglore,Salary-
Also Read: IPL 2022: 5 Underrated Players Who Can Earn Big At Mega Auction
DELHI CAPITALS
Head coach- Ricky Ponting IPL
Batting coach-Mohammad Kaif
Bowling coach-Samuel Badree, Ryan Harris
Fielding coach- Rajinikanth Sivagnanam
Also Read: IPL 2022: 4 Players From Associate Nations Who Might Earn Contracts In Mega Auction
Ricky Ponting IPL
Former Australia captain Ricky Ponting is the current head coach of the Delhi Capitals. Ponting played only 17 matches in the Indian Premier League and scored 401 which included 2 half-centuries, before joining Mumbai Indians as an advisor in 2014.
He led Mumbai Indians in the 2013 IPL edition. In 2014, he was appointed Mumbai Indian's team head coach. Ponting was made the head coach of Delhi Daredevils (now Delhi Capitals) in the 2018 IPL season.
Also Read: IPL 2021: HOW IPL FRANCHISES MAKE MONEY
Ricky Ponting IPL Coach Delhi Capitals, Salary – 3.5 Crore
SUNRISERS HYDERABAD
Head coach- Trevor Bayliss
Batting coach- Brad Haddin
Bowling coach-Muttiah Muralitharan
Also Read: India vs South Africa Head-To-Head Stats, Records In T20, ODI, And Test Cricket
Fielding coach-Biju George
England's Trevor Bayliss was signed with the Sunrisers Hyderabad as the head coach at the end of last year's IPL. He replaced Tom Moody, who was in charge of the side for the past 7 years and under whom guidance the team won the title in 2016.
If we look at the performance of the team and coach in IPL 2021, then both disappointed their fans. The SRH has lost all three matches so far.
Also Read: IPL 2022: 5 Players That Can Be A Hot Pick In Mega Auction Courtesy Of Their Performance In T20 World Cup 2021
Trevor Bayliss IPL Coach,Sunrisers Hyderabad,Salary – 2.25 Crore
PUNJAB KINGS
Head coach- Anil Kumble IPL
Batting coach- Wasim Jaffer
Bowling coach- Damien Wright
Fielding coach-Jonty Rhodes.
Also Read: FIFA World Cup 2022: Schedule, Venue, Qualifiers, Stadiums, Tickets, Timings In IST
Anil Kumble joined as the head coach of Punjab Kings in October 2019. and head cricket operations for Punjab Kings (Formally Kings XI Punjab last year). Interestingly Anil Kumble is the only India head in the IPL.
Kumble had played 42 matches for RCB from 2008-2010 picking up 45 wickets for the team. Interestingly Anil Kumble is the only Indian Head Coach in IPL 2021
Anil Kumble IPL Coach,Punjab Kings,Salary – 4 Crore
Also Read: The Ashes: 2021-22 Schedule, Venues, Squad, Time, Live Streaming, Prize Money
KOLKATA KNIGHT RIDERS
Head coach- Brendon McCullum
Batting coach- Abhishek Nayar
Bowling coach- Carl Crowe, Kyle Mills,
Fielding coach-James Foster
Brendon McCullum, the star of the very first match of the IPL of the inaugural season is the current coach of KKR. He was roped in as the head coach of the team in the year 2019. He has scored 2880 runs in 109 matches.
Also Read: IPL Winners Runners Up, Captains, Man Of The Match (Final), Player Of The Series List All Seasons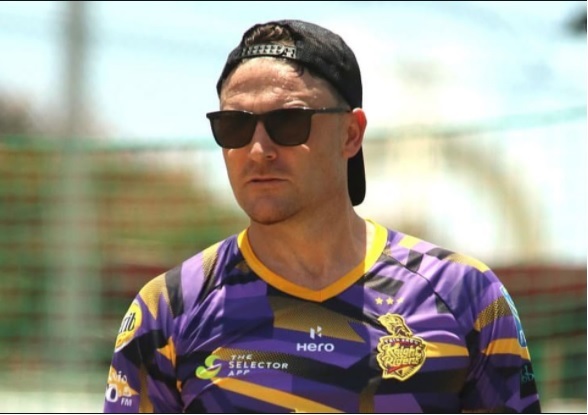 IPL 's 1st T20 match played between KKR and RCB at Bengaluru on 18th April 2008.
Brendon McCullum's record 158 ( not out) leads to KkR's massive 140-run victory over RCB.
McCullum became the 1st batsman to score 100 in IPL.
Brendon McCullum IPL Coach,KKR,Salary – 3.4 Crore
Also Read: ICC Men's T20 World Cup 2022 Stadiums List
RAJASTHAN ROYALS
Head coach- Kumar Sangakkara IPL
Batting coach- Amol Mazumdar
Bowling coach-Sairaj Bahutule, Rob Cassell
Feilding coach- Dishant Yagnik
Also Read: IPL 2022 : 3 Teams Which Can Target David Warner In IPL 2022 Mega Auction
Sri Lankan veteran player and captain Kumar Sangakkara has been given the added responsibility of the head coach of Rajasthan Royals. He is also the team director. The previous head coach Andrew McDonald has parted ways with the team as the head coach after just 1 season.
Kumar Sangakkara IPL Coach salary – Data not available